My first impression of the new Moroccan Gold Series truffle collection was that the packaging was clean and intriguing. These products claim to "restore damaged hair and split ends and protect them from the elements" and also the "lightweight formula quickly absorbs in all hair types, leaving hair beautifully manageable, silky and smooth." This is a big claim to make, so I was very excited to see if these products lived up to their description.
The first product I tried was the truffle serum, and it did not disappoint. With this serum, a little bit goes a long way. Unlike with other hair serums, this one didn't leave my hair feeling greasy or oily. It definitely was lightweight, and its scent is fragrant but not overpowering. The most important thing, though, did this product actually work? My answer is a resolute yes. This truly is one of the best hair products I have ever tried. My hair is looking a lot shinier and healthier than it did before I tried this serum. Also, it definitely feels softer and like it has more life to it.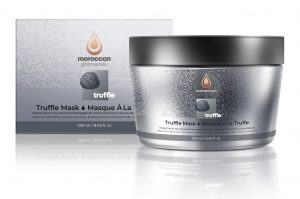 The second product I tried was the truffle mask, and like the serum, it certainly did not disappoint. This product's scent is stronger than the serum and has more of a continually noticeable smell, but it is still pleasant and not overpowering. With this mask, you apply it on clean hair, leave it in for 3 minutes, and then wash it out. When washing this product out of my hair, it already felt softer and less tangled. Once my hair was dry, there definitely was a noticeable difference. Like the serum, my hair was shiny and soft, but it was also voluminous with this mask. It also had a noticeable effect on my split ends. My split ends used to be dry and kind of coarse. Now they are fairly soft and also visibly smoother. All of the positive changes happened after only one use of this hair mask.
If you are looking to have soft, glossy, and healthy hair, I highly recommend either of these products. Both of them lived up to their descriptions of leaving your hair silky and soft. Also, there were visible differences as soon as I started using both of these products, unlike other products that can take days or weeks to affect. If you have tried this brand before, let us know your opinions in the comments below! If you choose to try either of these products, let us know what your first impressions are!
This content was originally published here.