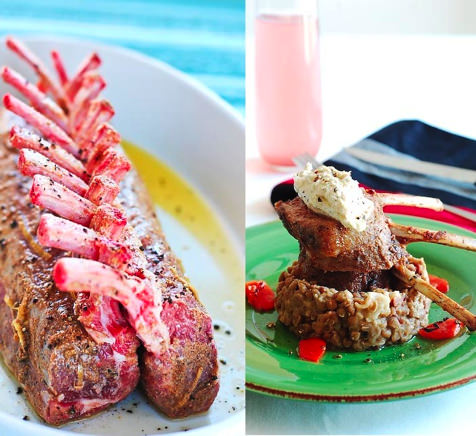 Prepping the lamb…and the finished dish.
This is my entry for the Royal Foodie Joust. Jenn, who hosts this monthly competition has given us "foodies" a chance to get creative with a monthly challenge. Last months winner who chose this months 3 ingredients, chose cinnamon, lentils and eggplant (aubergine). Great combination! So off to work I went creating a dish based on those ingredients. Here's my creation. Moroccan spiced lamb (using the cinnamon as part of the spice rub), a lentil and pancetta "pilaf" using the lentils of course and baba ghanoush using the eggplant. Here's a visual and written breakdown of this recipe.
PREPARING THE LAMB
I used two organic racks of lamb that I purchased form my very knowledgeable butcher. I made a spice rub using about a teaspoon of each of the following. Ground cinnamon, ground fennel seeds, cumin, turmeric, ground ginger and ground coriander seeds. To this blend of dry spices I added a good splash of olive oil and the juice of half a lemon. I created a wonderful aromatic paste that I rubbed all over the lamb and let it marinate in the refrigerator for about 4 hours. Once the lamb had come back to room temperature I placed it in a hot oven for about 45 mins at 200 deg C. This ensured I got a lovely pink colour in the middle and the lamb wasn't overcooked or destroyed!
LENTIL AND PANCETTA PILAF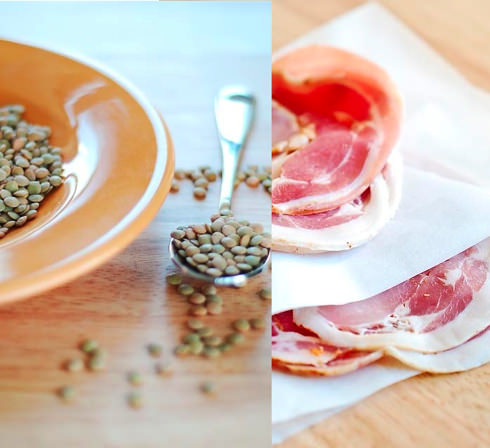 Lentils and pancetta…a great combination here!
I had originally intended to make a warm lentil salad as my base. But I slightly overcooked the lentils and it resembled more of a "pilaf". Oh well! the texture was slightly thicker than I had hoped for but it still tasted great. To make this I used 250 g of lentils. I picked all the slightly "scarred" ones out and I soaked them in some cold water. Once I had re rinsed them after their soaking I boiled them in a combination of one cup of water and one cup of chicken stock. I added a little salt and pepper to taste and one bay leaf. Once they had cooked (or slightly overcooked in my case!) I added some fried pancetta to them. I love pancetta. It's basically the Italian version of bacon but much better. It's a little saltier and spicier and it lends great character to a dish.
BABA GHANOUSH
I've never made baba ghanoush before. I've never even made that similar Greek classic "melitzanosalata". The principles are similar but the ingredients vary slightly. Baba ghanoush is a dip which originates in the Middle East and it uses eggplant as its base ingredient. It's actually quite simple to make and it has a very addictive taste. I basically baked an eggplant in a very hot oven that I had pierced all over with a fork. This took about one hour. Once the eggplant had been removed and cooled down I peeled the dark skin off it and removed any seeds that were still visible inside the silky cooked flesh. I then placed the cooked eggplant flesh into a food processor and added two finely chopped garlic cloves, one and a half tablespoons of tahini (middle Eastern ground sesame paste), salt and pepper, the juice of half a lemon and whilst the motor was running, I added enough extra virgin olive oil to make a creamy concoction. (The amount of olive oil might vary slightly but just use enough to make it creamy).
And finally I put all the cooked parts of the dish together. The lentil pilaf was used as the base. The lamb was placed on top of this and the baba ghanoush was scooped on top. A fantastic blend of flavours and combinations. Also a great challenge using those three specified ingredients of cinnamon, lentils and eggplant.
This content was originally published here.